2019 | Performance, pyre, paper & sawdust-filled cast granite rock forms, flowers
This performance work is meant to act as a memorial to people who have lost their lives in the brutal working conditions of the granite industry, specifically in India. India is the world's largest producer of granite, and in 2015 they exported 49% of the world's raw stone (1). The United States is an importer of this granite, primarily utilizing the resource for countertops, tile, and tombstones.
I find the notion of enslaved people dying to produce tombstones for others' dead to be deeply unsettling. Another layer of macabre irony is that the Indian funeral tradition is customarily cremation, not even burial.
To honor the people who have lost their lives in this industry, this work consists of my performance of a cremation ritual. The burn palette is large enough for a child, of whom many are forcibly involved in the granite industry. The music is a Hindi ballad that may be played at a funeral in India. I wear white, gold jewelry, and open-toed sandals. I sit close before the pyre is set ablaze, meditatively placing stems and blossoms of flowers amongst the body of paper rocks. The rocks sitting across the coals are cast from a piece granite, representing the lives of the people being commemorated. The rocks are cast from pulped paper and filled with sawdust in order that they burn to ash, like a body would. The process of making the paper pulp for this project was significant in that it was an extremely mundane task. As I ripped and tore the countless newspapers and tabloids into tiny bits, I reflected on the monotonous drudgery of the quarrying work that these people are forced to engage in, daily. The flowers are offered as a parting gift to the one who has gone, and the life that they leave behind.
This work is ephemeral, just as life is: the cremation palette is set afire, turning the multiple paper rocks to burn to ash, and allowing me to reflect on what my role is in this industry, and how to respond to it.
(1) https://www.business-humanrights.org/en/india-report-highlights-modern-slavery-child-labour-in-granite-quarries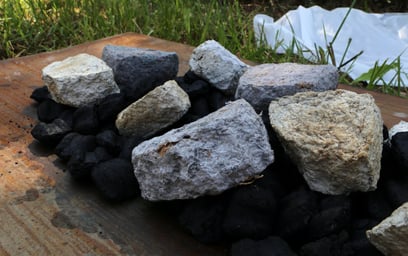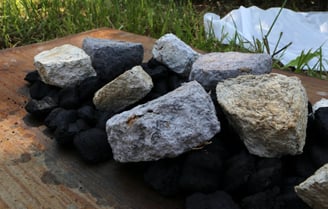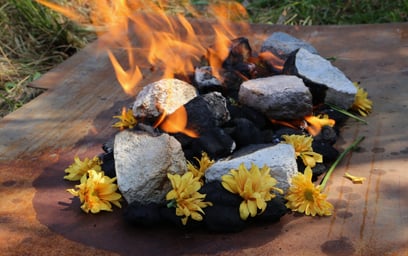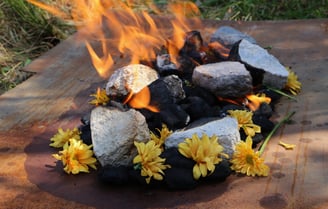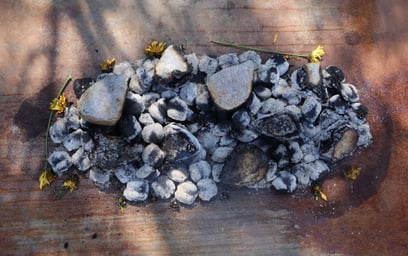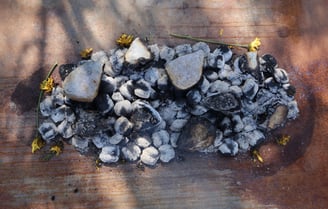 सहेला रे,
आ मिल गाये;
सप्तसुरन की भेद सुनाये
जनम-जनम को संग न भुले;
अब के मिले सो बिछूड ना जाये
'Sahela Re' song lyrics in Hindi
Sahela Re Aa Mil Gaayein Sapta Suran Ke Bhed Sunaayein Janam Janam Ko Sang Na Bhoolein Abke Mile To Bicchhud Na Jaayein Sahela Re…
'Sahela Re' song lyrics
O Mate! Let's sing together! The hidden secrets of the seven notes! Let's not forget this harmony for many lives; Once met; let's not part ever! '
Sahela Re' translation
This life that we are living together is a song of harmony, O Mate, Let's live it to the fullest; and let's continue this journey together for all the lives to come after…
'Sahela Re' meaning
'Sahela Re' sung & written by Kishori Amonkar
Lyrics, translation & meaning from Nepali Songs Lyrics
https://nepalisongslyrics.com/sahela-re-lyrics-kishori-amonkar/