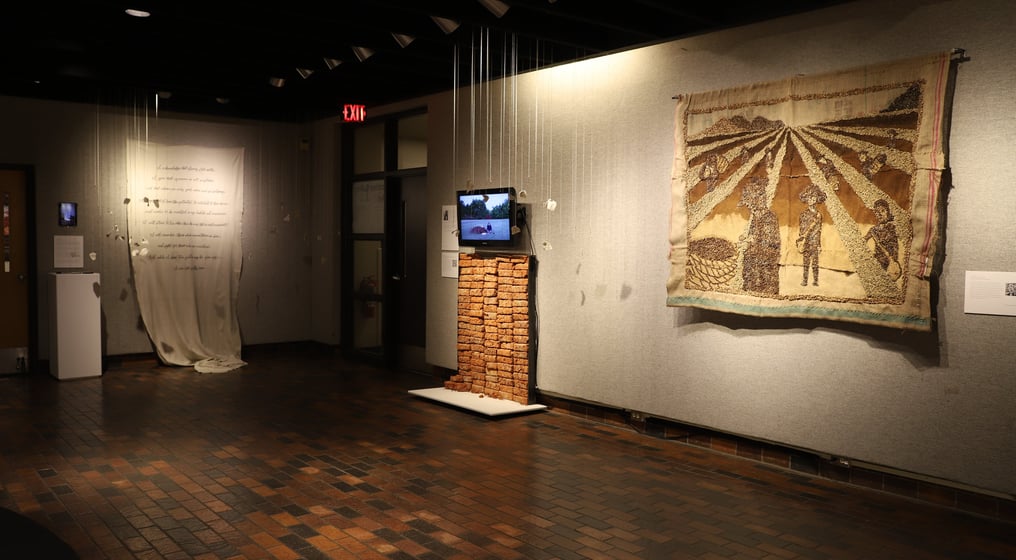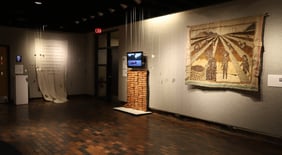 Select works from the series "To Those Enslaved" featured at the BFA Studio Capstone Exhibition (2021), Oklahoma State Gardiner Gallery
luontosuhde (our connection to the land, to the earth)
2023, Haukijärvi, Finland | installation & performance: cyanotype on cloth, natural material (sticks, branches, various botanicals), projected videos, select tracks from lou harris' new moon sound meditation, [performed 16.08.23 at Arteles Creative Center]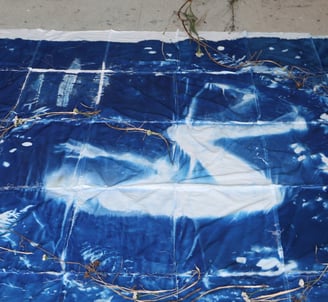 2023, porcelain & enamel, 5 x 6 x 7 inches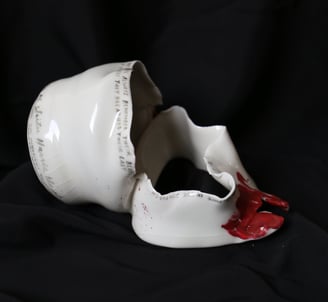 this never-ending violence
2023, Philadelphia, USA | performance: paper, acrylic paint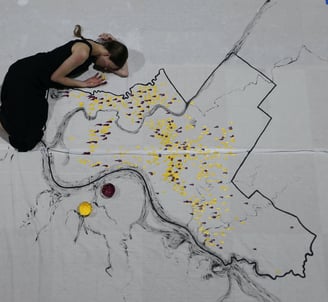 mourning ascends, passing into joy
2023, Philadelphia, USA | Interactive fibers installation: cloth, string, pins, bleach, water in large bowls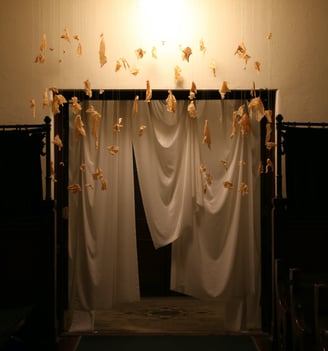 2023, Philadelphia, USA | Installation: cloth, ink, acrylic paints, lights, pins, cables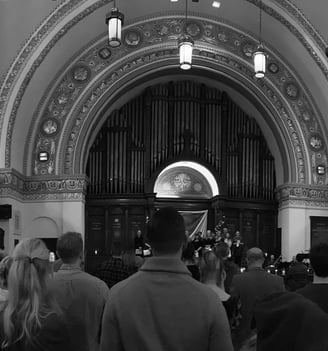 To Those Enslaved series (2019-2021)



Through installation and performance, To Those Enslaved examines industries that sustain modern-day slavery while acknowledging those directly affected and implicated by this issue.
These works enable me to consider my role in this global crisis, and prompt me to examine to what extent I—as a consumer—unwittingly support human exploitation industries.
A key intention of the work is to raise awareness about these issues, thereby encouraging viewers to consider how their everyday choices intersect with these injustices.
The word "slavery" can quickly be associated with things of the past, but the reality is that there are more slaves in the world now than at any other point in human history*.
I want the viewers of this series to confront this reality and think critically about the issue, perhaps to ask themselves how they are contributing to it, or how they could leverage their personal skills, resources, and talents to help combat it.
With this series I commit to exploring social justice issues in tandem with the process of making. Fully sanding and staining each chair, arranging individual coffee beans, hand-building clay bricks for hours on end— all are extremely repetitive, laborious tasks.
Nevertheless, these meticulous labors direct me to think deeply about the monotonous drudgery of the physical labor that millions of people are forced to engage in, without relent, daily.
*International Justice Mission, https://www.ijm.org/slavery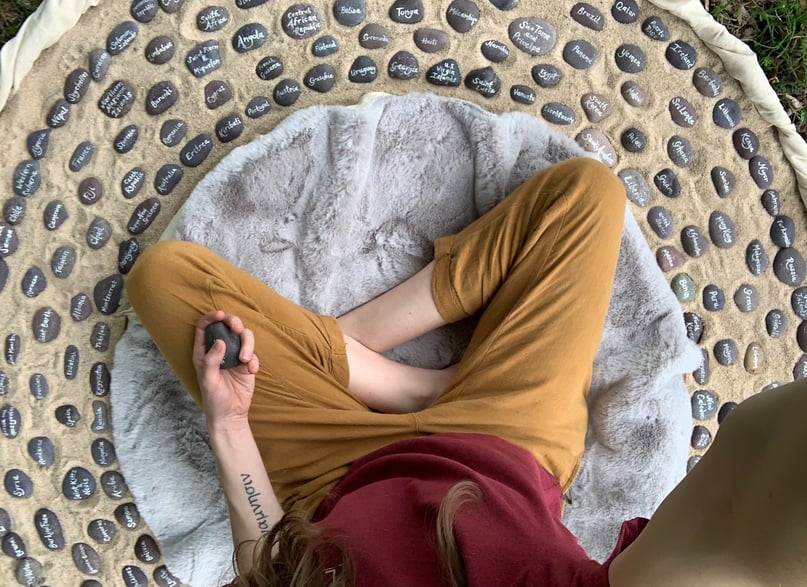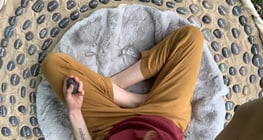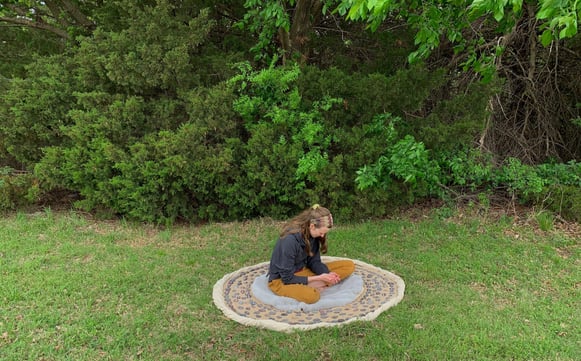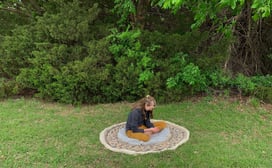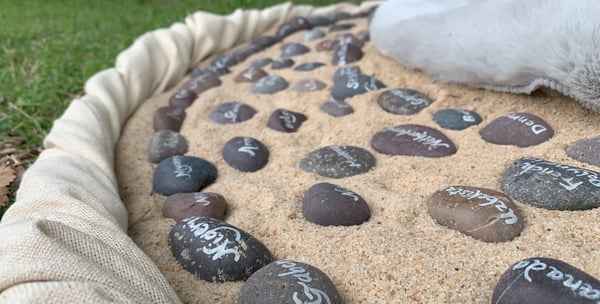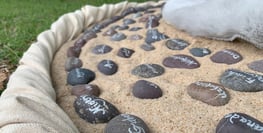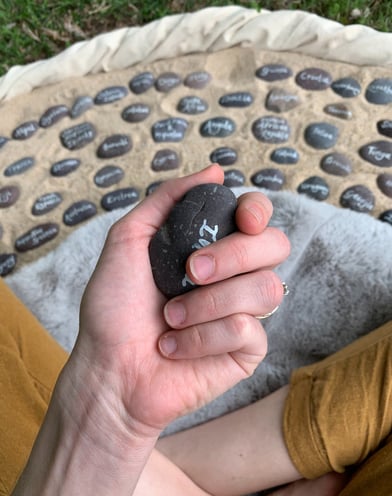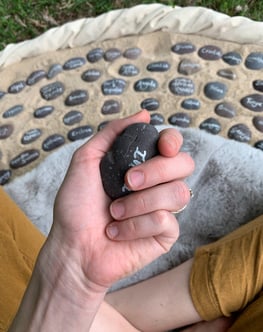 For the Nations
2021, rocks, enamel paint, sand, faux fur rug, canvas


Hallowed be Your Name
2021, prayer room installation, paper, pins, salt lamp, rug, cloth, music on loop: "Stillness" (05:02) Dwell: Linger album (2018)
Rita
2020, embroidery thread, yarn, muslin cloth